The other day, We went to see the Taushubetsu bridge (タウチュベツ橋梁, taushubetsu kyōryō) . This time we across frozen Lake Nukabira (糠平湖, nukabira ko) to the bridge. Then I conceive that "Lake Shuparo (シューパロ湖 shūparo ko) may frozen because Lake Nukabira frozen now. So I can across to see Sangen bridge (三弦橋, sangen kyō) ". I has bad cold but I habe go.
---
I patrol around field when as soon as arrived. Did you cut the hair? Shirogane area (白金地区, shirogane chiku) lose anything and everything like skinhead. Impression chaged causes hairstyle. If I come here again, It seems to shave the line of 300m contour.
---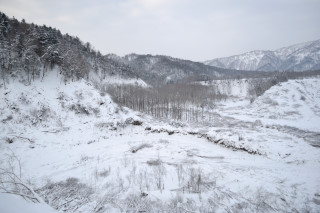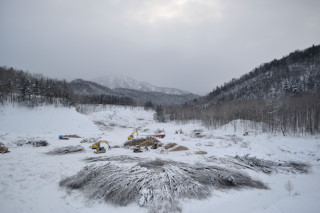 I attempted to start from Shirogane area, but I stop because they will trim trees weekend today. Reluctantly because I spotlighted, I start parking space near the national road.
---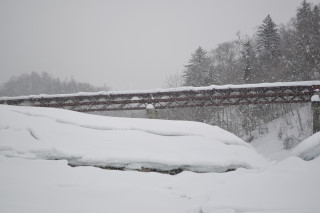 Edge of the lake melt a bit, but no problem to across. At first I will go to No.6 bridge (第6号橋梁, dairokugō kyōryō) because parking is distance to Sangen bridge. After that I will walk on site of forest rail. No.6 bridge is one of JKT, and only one of stacked.
---

It's enough onky picture, but I have taken movies. Please enjoy useless 1 minute.
And enjoy the pictures too.
---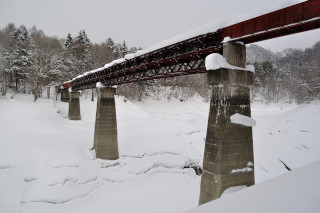 No.6 bridge has 5 effective spans, the 2 main spans are JKT and stacked. Start side span is 1 span girder. End side spans are 2 spans girder. Please reed web site of JSCE. Please reed web site of tensyo fleet too. It has more detailed info.
---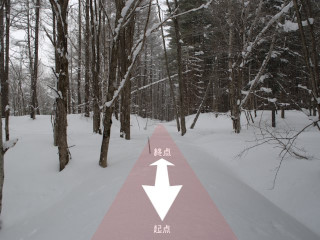 Landscape from bridge to end. Sakai 5t locomotive(酒井5t機関車, sakai goton kikansha) that full load logs was coming……
---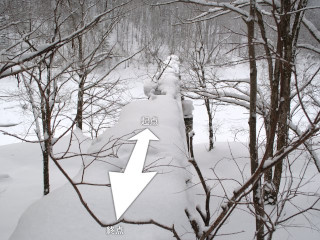 and pass the No.6 bridge.
---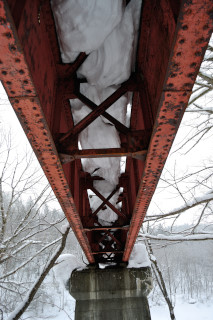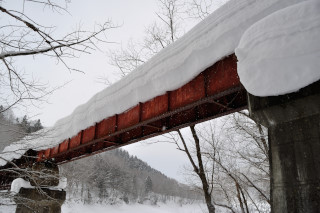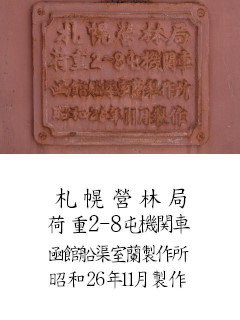 2 spans of end side are girders. They have same nameplates.
---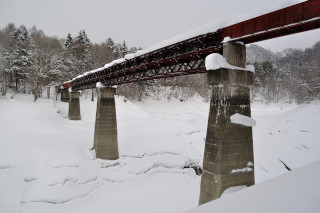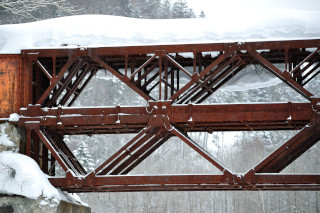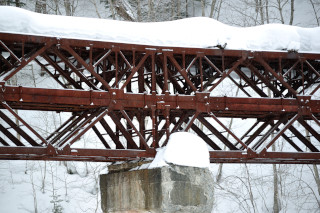 Ths is it. Next 2 spans are JKT. It's higher than I look from far away, so I only watch from far.
---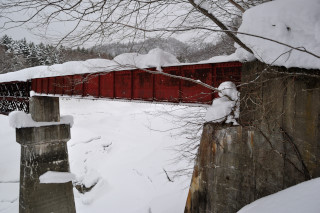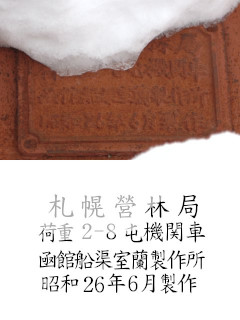 Start side span is 1 girder. I don't know what circumstance had this, it made earlier than other girders.
---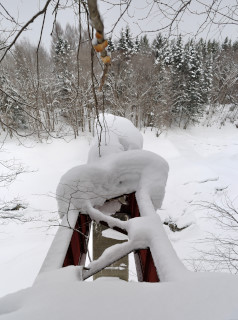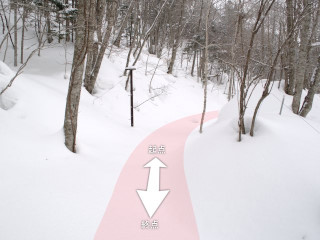 After pssed No.6 bridge, I through forest.
---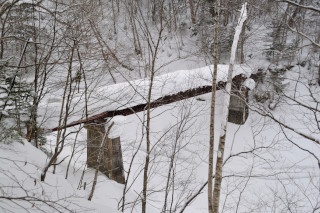 No.5 bridge(第5号橋梁, daigogō kyōryō). It has 3spans and center is JKT.
---
I have a bad news.Ice is melting cause high temperature today.If temperatures keep or increase, I can't go back, and start great adventure. So I back right now.
Just as I had feared, ice begins to melt, it sinks with my light weight! Does condition change so violently? I think I can't come back if the decision is late. It was dangerous. When can I go to Sangen Bridge.
infomation of this entry
関連記事
変更履歴

サーバ引越しに伴いページを移動
旧URL:http://iyokanmorigen.blog122.fc2.com/blog-entry-341.html
新URL:http://morigen.pro.tok2.com/blog/?p=2176
新URL:https://morigen.net/blog/?p=2176
Comments