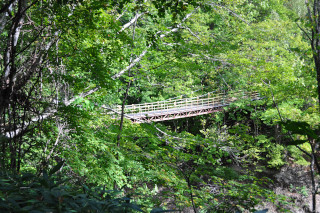 I came to suspension bridge in Katsurasawa (桂沢) Mikasa city (三笠市, mikasa shi). This bridge is between campsite of lakeside and park. Near here, there is an abandoned hotel, and the bridge is abandoned too.
---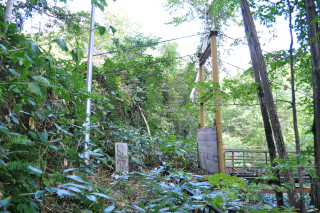 I arrive at the park side sleeve of the bridge. Road to here had aintenanceed but now it's bushed.
---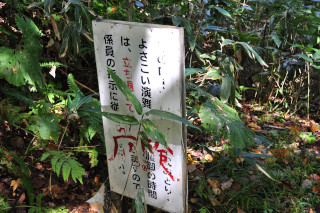 What's this sign? It mean yosakoi festival was hold here?
---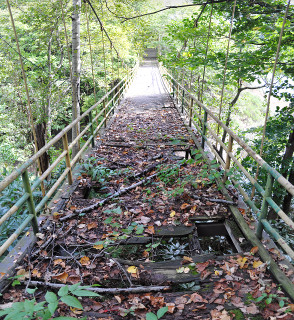 Wooden slabs rot off partly. I can walk just on floor system, but I can't try it because it's too scary.
---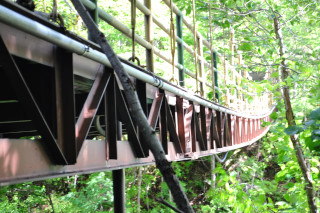 I see stiffener from beside that is center downing slightly arched, but I think original design not instruct like this.
---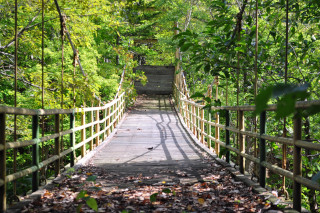 Evidence that, central handrail was buckling.
---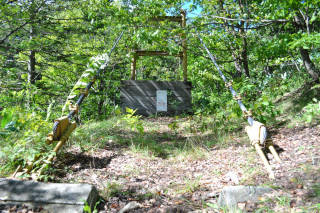 I detoured and came another side sleeve, but it's no interest.
---
I come other bridge. downstreamd of Katsurasawa, Mikasa spa kagetuen's bridge in Ikushunbetsu (幾春別) .
---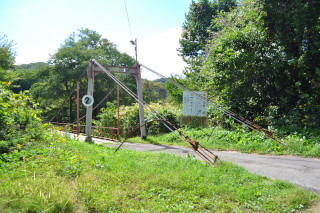 No other traffic, so cars pass the bridge to go to spa. Weight limit 2t.
---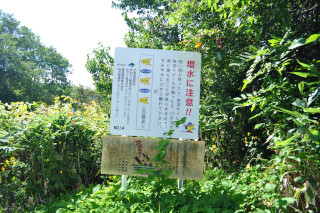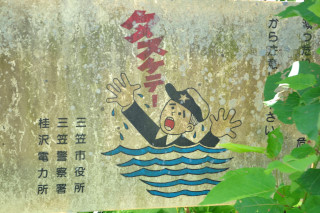 The sign in front of bridge. It mean "be careful to swollen" but this picture lol.
---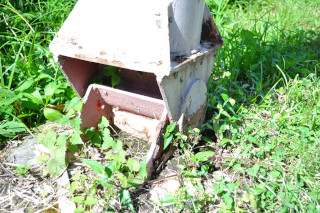 There are shoes lower end of the towers. I never seen same shape.
---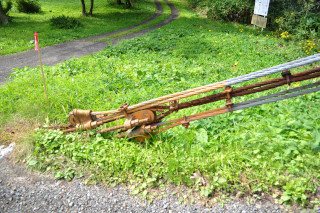 Fixing part of main cables It's too many. 3 cables from 1 anchorage. New colored 2 cables is main cable, and old rust color is diagonal cable. I image diagonal cable bridge is old suspension bridge, also is it old?
---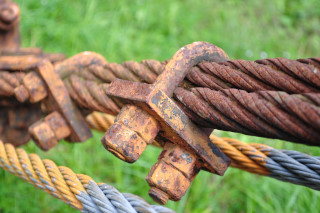 Surface of diagonal cable is flat. Is it twist Z or T of LCR? Wire clip shape engender it's vintage.
---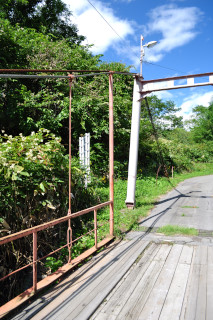 Eh? What is this? Sub tower? There is something like cable band top of sub tower. diagonal cable stack on it. this sloppy structure stir up oldness. This picture taken at right bank, but in left bank side has no sub tower.
---

It is thicker in endure of tires
---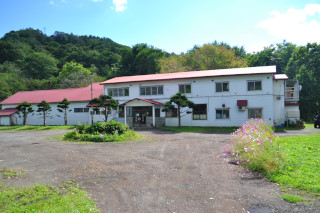 Suspension bridge is 1 span only. I descend approach cushion slab, into parking of spa.
---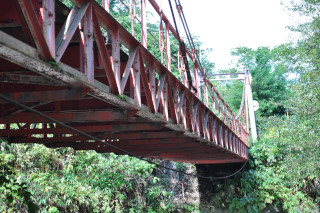 I think bridges for cars almost has stiffener, it's has too. Something hanging under the bridge. first I thought it's power line. but infact it'a purposeless rope.
---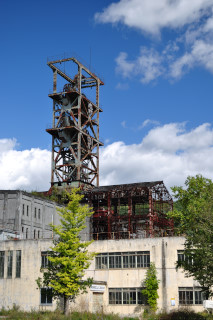 After that I went to shaft of ponbetsu coal mine (奔別炭鉱, pombetsu tankō) . I love it. Awsome cool.
infomation of this entry
主要地点の地図
変更履歴
2013-02-23
サーバ引越しに伴いページを移動
旧URL:http://iyokanmorigen.blog122.fc2.com/blog-entry-314.html
新URL:http://morigen.pro.tok2.com/blog/?p=2149
2016-03-19
サーバ引越しに伴いページを移動
旧URL:http://morigen.pro.tok2.com/blog/?p=2149
新URL:https://morigen.net/blog/?p=2149
Comments