summer, I came Taushubetsugawa bridge(タウシュベツ川橋梁, taushubetsugawa kyōryō), but it was completely submerged. Today somebady brings me here and retry to see the bridge. Taushubetsugawa bridge locate Nukabira (糠平) in east hokaido (道東) , so I achieve 2 of objective of this year!
---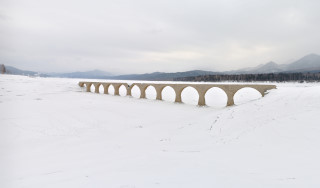 It in the middle of Dry season. Sunk depth is only ice thickness. Almost all of the bridge exposed.
---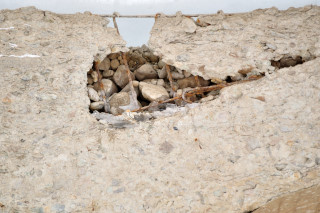 Like prior information, it broken too much. It was built in , today it elapsed 74 years, and it sunk from , so it's having wounds all over its body.
---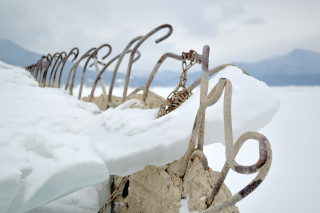 Arch has no rebar, but spandrel has rebar. Rebar that has no rib is evidence of old construction.
---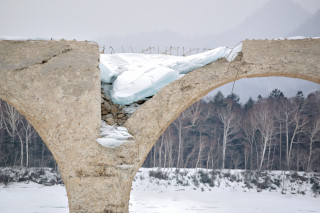 Damage place of 6th span from Nukabira side. It broke by Hokkaido earthquake, after that filler has decreased each time of submerged.
---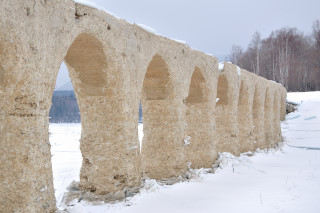 Surface concrete is peeling violently, I can see pieces of concrete on ice from far away. It shaved so every year, deathday is close. Person who bring me here (78 years old) said "it will die early than me."。
---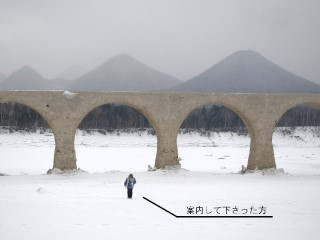 Thank you very much for bringing me here .
infomation of this entry
変更履歴
2012-06-19
サーバ引越しに伴いページを移動
旧URL:http://iyokanmorigen.blog122.fc2.com/blog-entry-340.html
新URL:http://morigen.pro.tok2.com/blog/?p=https://morigen.net/blog/image/2011/03/01
2016-03-20
サーバ引越しに伴いページを移動
旧URL:http://morigen.pro.tok2.com/blog/?p=https://morigen.net/blog/image/2011/03/01
新URL:https://morigen.net/blog/?p=https://morigen.net/blog/image/2011/03/01
Comments