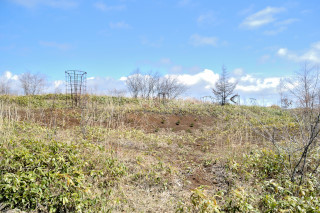 It's nice weather , isn't it? Last week I hibernated cause bad weather, I take a walk to park for recreation.
---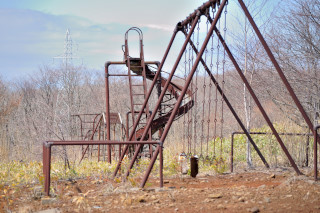 By the way, this park is too decadent. I like it.
---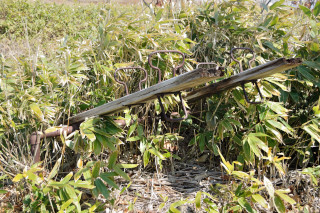 The seesaw harmonizes with nature excessively.
---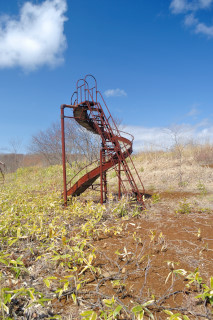 Play equipments became the art. But any children can't play.
---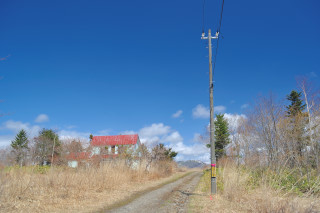 I walked a few minutes, I see a house. Indeed, nobody places don't need a park. But Look, wire is dead?
---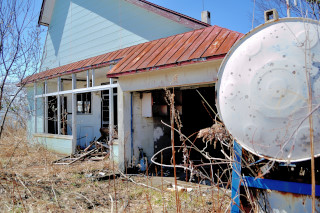 Ah, it's a ruin. Inside is rough.
---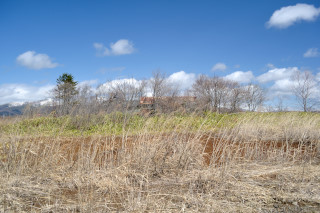 I can see another house in back of the wilderness. Obviously it's a ruin.
---
What is here? It's residential area called Takanodai danchi (高野台団地) in old map. Company of Takano kanko kaihatsu (高野観光開発, bacame Takano (タカノ) now) constructed, according to machi BBS (まちBBS) . I browse web site of this company, it constructed 122,000m2 from . There is no other information. So let's go to the library to view maps.
---
The oldest map is 1978 surveyed. I colored

people living house is blue

,

vacant house is red

. It passed 14 years max, there are some vacant houses. Numbered 106-173 house is I saw first.
After then, some household in and out (or change head of household) , there are 12 households in 1983. Also after few year, car maintenance shop called koryo jiko (港菱自工, kōryō jikō) appear. Maybe the only company of this residential area.
Household decrease bit by bit, 6 Households + koryo jiko in 1996. 2 houses that I saw was vacant at this point.
After one year of previous figure, 1997. All households moved out suddenly, and disappeared almost buildings. The remaining house is I saw second ruin.Takanodai danchi disappeared from maps in this 1 year like Atlantis. What happened in this year? To investigate this mystery…
oops some guests are coming. Who is…?
Who are you! Don't touch me! Stop it!
---
I evade like that, I couldn't research it because I went library before 15 minutes to close. You will understand to view the map, I think the cause is location. It too higher than city area, and no shops, no schools, maybe no busses, and I think water supply was too bad with this location. I don't want to live here.
---
infomation of this entry
変更履歴
2012-07-05
サーバ引越しに伴いページを移動
旧URL:http://iyokanmorigen.blog122.fc2.com/blog-entry-356.html
新URL:http://morigen.pro.tok2.com/blog/?p=2191

2013-01-09 誤字修正
2016-03-20
サーバ引越しに伴いページを移動
旧URL:http://morigen.pro.tok2.com/blog/?p=2191
新URL:https://morigen.net/blog/?p=2191

Comments