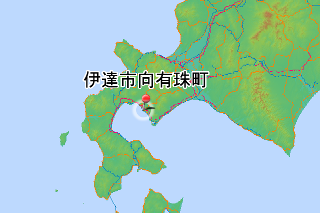 In the Edo period, Japanese power didn't go well enough to Hokkaido yet, and Ainu have exchanged with Russians, so Christianity was easier to accept more than outside of Hokkaido. One man called John Batchelor came to Hokkaido in 1877. He is a missionary of "Anglicanism" that is in the middle position between Catholic and Protestantism (Somewhat closer to Protestantism). He built private school and hospital for Ainu at the same time as propagate Christianity, he have called Ainus' father. In 1892 Anglican Church was composed the church at Usu (有珠, usu). This was rebuilt with stone which were mined in Mt. Usu (有珠山, usu zan) in 1937. This edifice have used on active service even now, I came to look this one.
---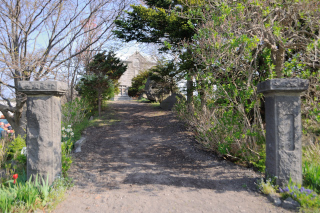 I leave Usu Station (有珠駅, usu eki) and go into residential street 10 minutes by walk. The church built on tiny hill named Kamui-tapkop(カムイタッコㇷ゚, kamui takkop, it means got hill in Ainu language).
---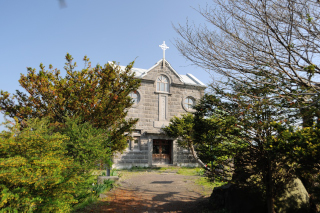 Made of stone with partial two stories. Total floor area is 149.64m2. Construction started in April 1937, completed in October of the same year. It is designated tangible cultural property of Date City (伊達市, date shi).
---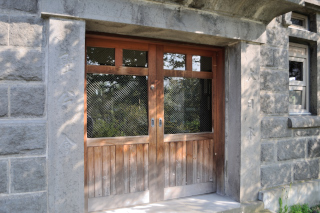 And inside of this is…clank…it locked.
---

I came other day. Today, the charity bazaar is held, I can enter inside of the church.
---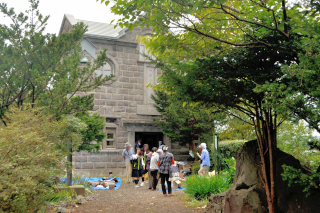 Oh, normally there is nobody but today crowded.
---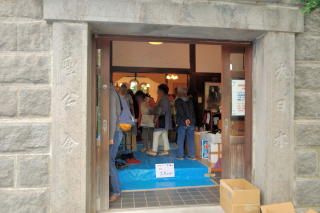 Oh, the door which closed hard that day had opened splendidly.
---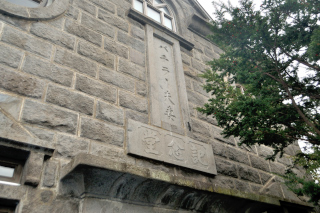 Before entering try to look outside. There is inscription "The memorial church of Mr. and Mrs. Batchelor (バチラー夫妻記念堂, bachirā fusai kinendō)" over door.
---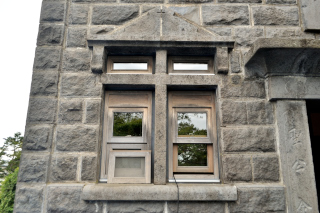 Window of 1st floor. A small cross embellished on upper triangular part (to be accurate it's stucked rhombus, 重ね菱, kasane bishi) which protrudes a little like pediment. Window frame is cross too, isn't it? Crosses is hidden everywhere of building like this. Just like there are hidden micky in Disney theme park. How many can you find? If you come here, let's find crosses.
---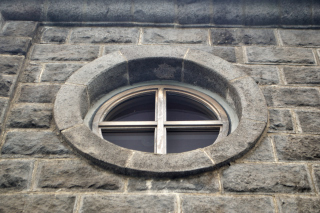 Second floor window is circle. But it is cross as I thought. It may make similar to celtic cross.
---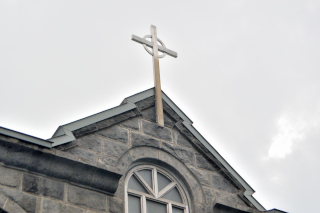 The steeple is stucked rhombus same to 1st floor. There is celtic cross on this top. Roof other than the steeple is gable, not dome or vault.
---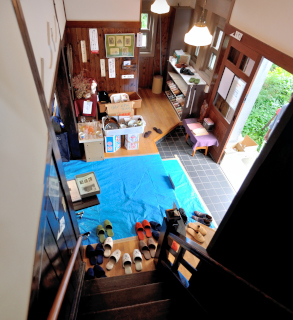 All right, let's enter inside. At first, the entrance. The blue thing is tarp which covered for entering with their own shoes. Usually have to take off shoes. This is Japanese style, isn't it?
---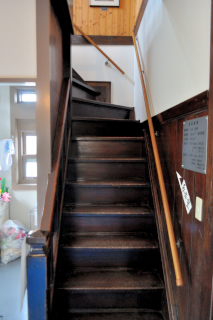 I think that you may have perceived with upper photo, there are stairs on left of entrance. Let's go up.
---


Second floor is exhibition room with 1 room. This church repaired and restored in 2001, the room found at this occasion. The bibles, dictionaries that used by Mr. Batchelor are in glass cases, exhibits that history about Mr. and Mrs. Batchelor or this church on the wall. By the way right person drawn picture is Mr. Batchelor.
---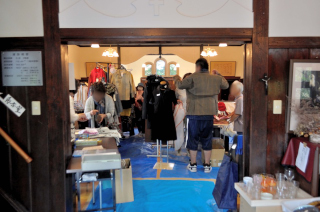 Back to 1st floor, go into the sanctuary.
---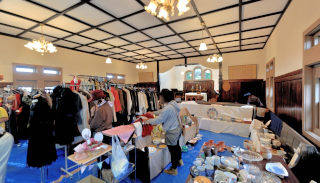 I have imagined here is solemner, but no choice because bazaar is being held. I think you can find photo that solemn state as usual, please google by yourself. The sanctuary is almost square. The entrance located on southeast side, the holy of holies on northwest side. In the room have no icons stained glasses or ceiling paintings, it is very frugal. The most gorgeous thing is goods of bazaar.
---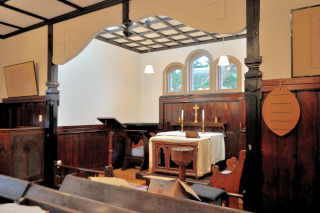 There is the holy of holies in the back. I have imaged that priest is often here, and important ceremony taken.
---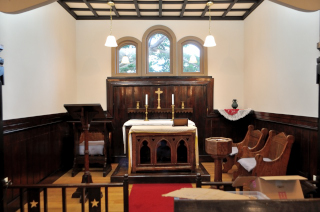 The apse is not roundy but square. The altar stone, candlesticks and other unknown goods looks sacred are setting on. I'm sorry for I'm a outsider Buddhist, I don't understand what details about Christian things. So today's blog might have many misses. Oh Jesus Christ, forgive us my trespasses, Ramen.
---
Infomation of this entry
Major points maps
References
『ジョン・バチェラー – Wikipedia』(https://ja.wikipedia.org/wiki/%E3%82%B8%E3%83%A7%E3%83%B3%E3%83%BB%E3%83%90%E3%83%81%E3%82%A7%E3%83%A9%E3%83%BC)
北海道近代建築研究会(編)、『道南・道央の建築探訪』、北海道新聞社、2004年
Comments