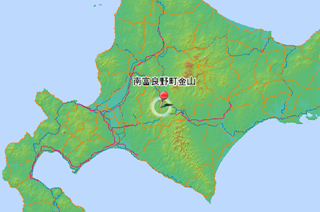 There are 2 tunnels named "Kanayama Tunnel (金山トンネル, kanayama tonneru)" on the road in Minamifurano Town (南富良野町, minamihurano chō). Completion in one that in old road and Completion in one that in current road, these 2. I come to see these today.
---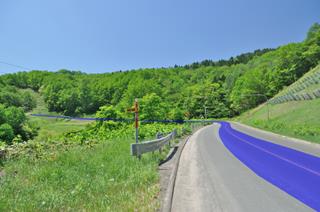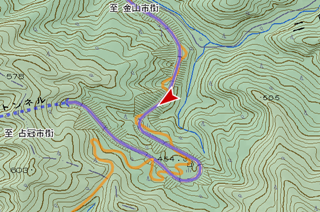 Weather forecast anticipate temperature will be more 30℃, there is no any clouds in the sky, I start to go away from urban area of Kanayama to south with national road 237. the border between Minamifurano Town and Shimukappu Village (占冠村, shimukappu mura) is Kanayama pass that has objective tunnel.
---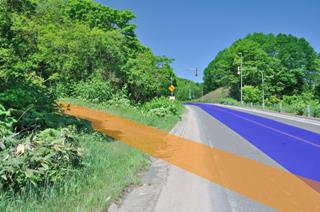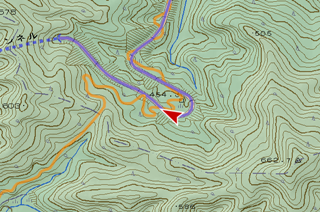 Entrance of old road of Minamifurano side of Kanayama pass is this. There is old roads down here too but almost removed by current road.
---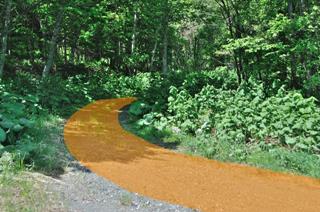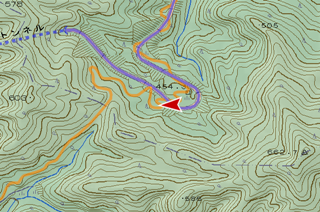 The old road is gravel single lane. It curve right and left, but roughness is slight than I thought.
---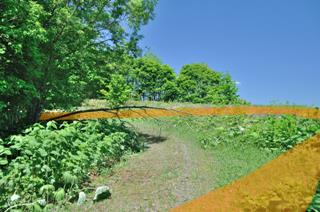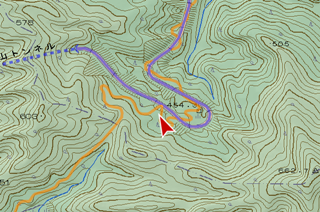 It have cut off by the current road, but the old road here was a big round route of small ridge avoidance.
---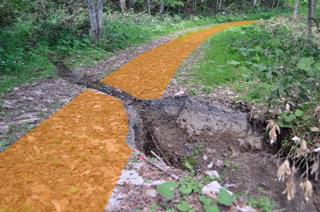 A gully cross the road that leave width to cars can through just barely. I was wondering if it is a town road or something because there is a wheel track, but had it abolished in documents because let go of this?
---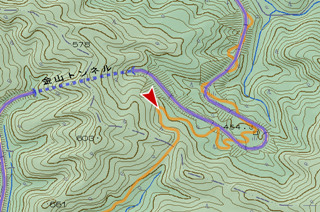 I turn at the few Kanayama Pass hairpin curve.
---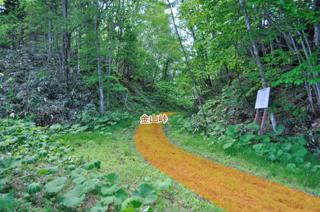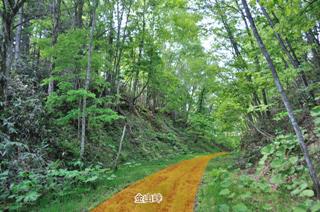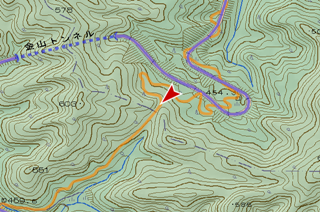 I have arrived at Kanayama Pass. It pass watershed and connect Isolated Minamifurano Town and Isolated Shimukappu village with cutting elevation of 518m. Line shape changed by construction in – , but the pass have be here.
---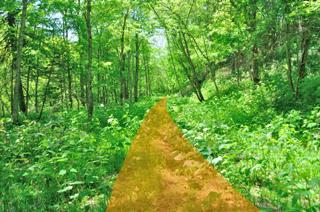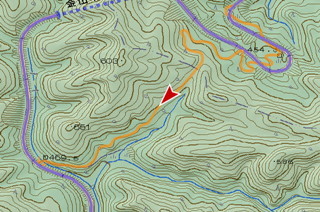 After the pass, wheel track change completely in Shimukappu side, it be only animal trail.
---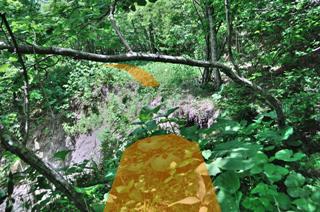 There are happening 2 or 3 times like this, deers creates new single track on the occasion of happening.
---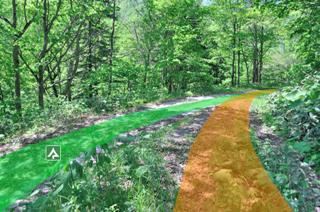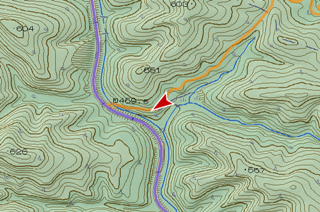 It comes down until I can hear engine sound of the current road approaches, the old road be gravel again. This gravel road doesn't go to pass but go to rill.
---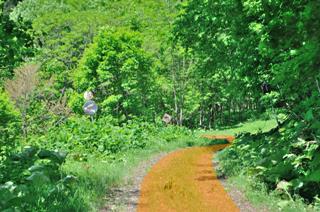 Let 's put back firecrackers and bells because horn section ends. The road curves to left in the back of the photo.
---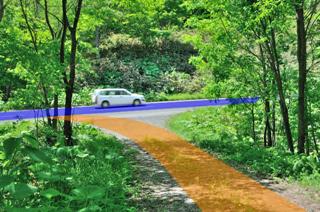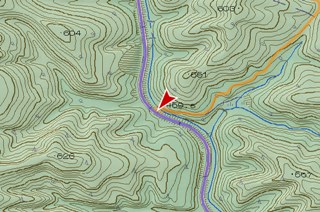 The old road ends with join the current one.
---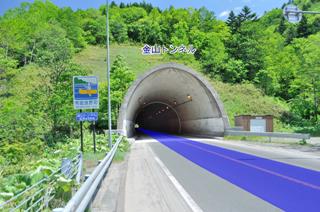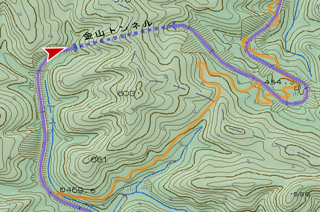 The current road is using Kanayama Tunnel to pass Kanayama pass now. It's newer Kanayama Tunnel that constructed on . Where is Kanayama Tunnel of the old road? It's good question. At first, I write "old road", but I'm not write "old road of Kanayama Pass"! Surprisingly, old Kanayama Tunnel is not in this old road but in different road altogether.
---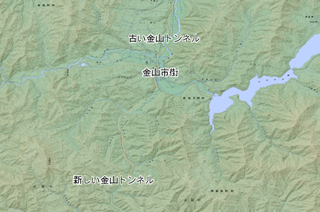 I had thought Kanayama Pass has 2 generation tunnels too, I looked very hard at old topographic map, but I couldn't find it. So, I stop looking, and start to travel with wild fancy on the map, I find old Kanayama Tunnel. It's in north of urban area of Kanayama. I didn't need to go a long way round if I read the "Status survey report (現況調書, genkyō chōsho)" properly and checked an address.
---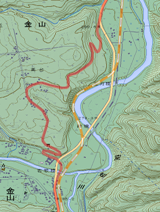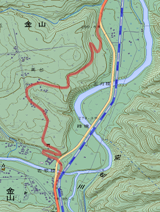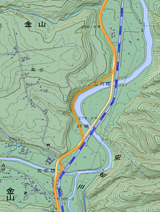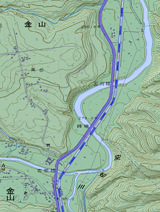 Let's look harder at old Kanayama tunnel. (fig. left) At first, road is upon the precipice, railroad is below the precipice. In this era, Kanayama Tunnel is a railroad tunnel below the precipice. (fig. middle left) The railroad moved current position. Kanayama Tunnel abolish temporarily. (fig. middle right) Instantly, the road moved to site of the railroad. Kanayama Tunnel come back again as road tunnel. (fig. right) At last, road moved current position too, this state is same with now. Kanayama Tunnel abolish again.
---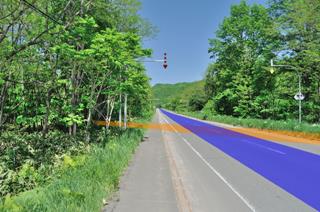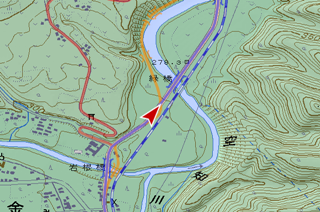 This morning, I go south from Kanayama, at afternoon go north on same road. The old road is branching at this side of the current road Midori Bridge (緑橋, midori bashi).
---

Among sparsely reed bed, site of road is covered with thick bamboo grasses like harassment.
---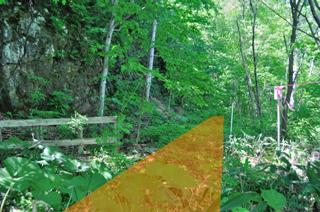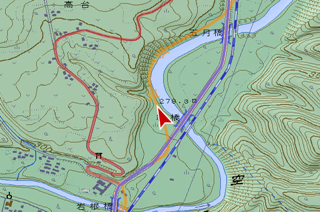 Bamboo grasses disappear soon at same time as I into woods. Sorachi River (空知川, sorachi gawa) closes from right, the precipice show up on left. Flat ground remained only just 1 traffic lane.
---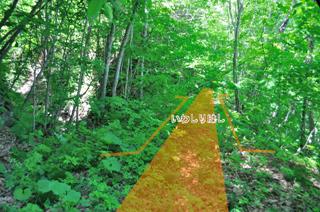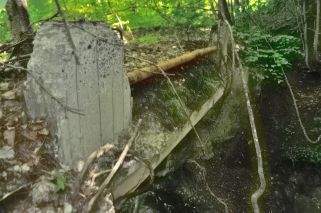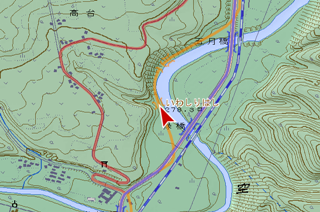 it's Iwashiri Bridge (いわしりはし, iwashiri hashi), constructed on , according to nameplate. I couldn't know Kanji name because one of nameplate had disappeared. Single span concrete girder bridge.
---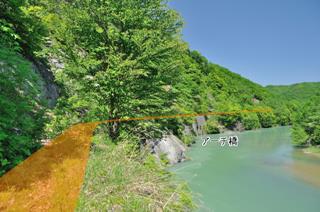 Woods suddenly decreased. I can see bridge like arch on far, raises sense of expectation, but it's misfortune if open my sight near precipice.
---
---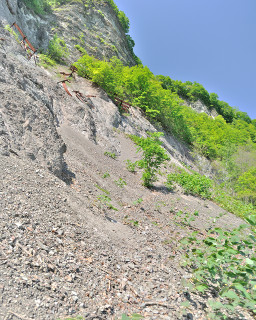 The road is buried completely under about 10m height talus. I look up to precipice, avalanche preventing fences are hanging, and everytime wind blows, attacked by new falling rocks. I look down, riverside is standing apeak so ground disappear and refuse adamantly detour role.
---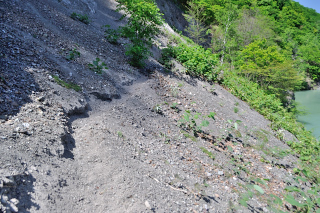 For this reason, I improved deer's footstep to pass. As expected, I'm afraid by bike so I leave behind it.
---


I see Sorachi River incised meander from middle of traversing talus. The road and the railroad are through away with unimpeachable line shape, we don't need imagine topography.
---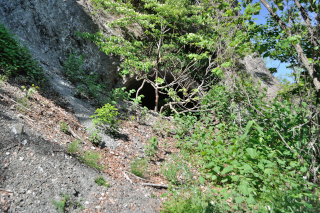 100m long gravel catwalk. Its end is a hole.
---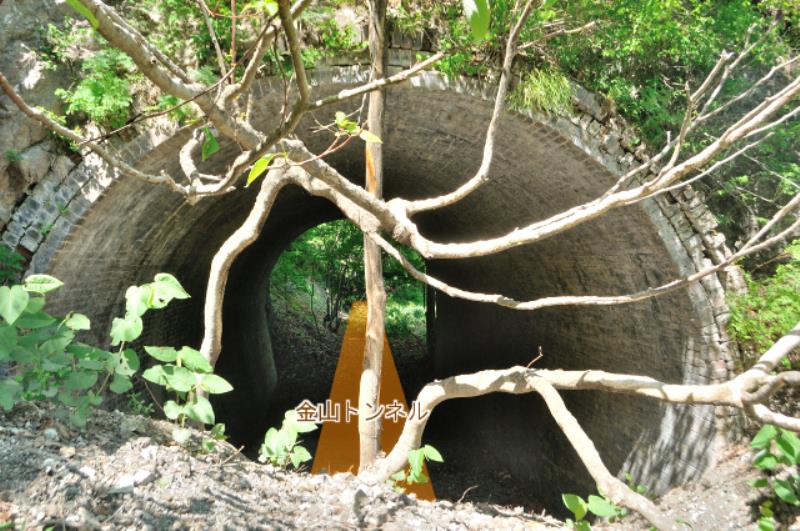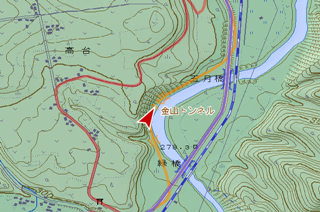 This is Kanayama Tunnel that completed in . 16.60m length. It's vertically long dimension, roadway width is 4.0m against critical height is 4.5m. I look foot closely, the under of wall is to narrow slightly and has horseshoe shape. It's usual that bricked lining is used for railroad, but it's rare for road. It seems that the tunnel constructed as the railway was diverted to the road by unmodified.
---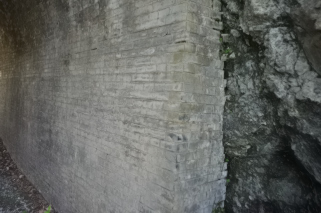 The railroad opened here at . This tunnel exist already in photo that taken in 1901, so is year of diverted to road, in fact it is completed in Meiji period.
---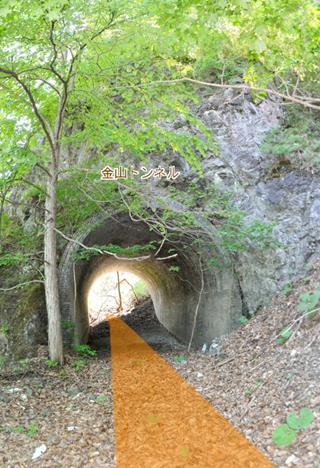 It seems to called Kanayama Tunnel too in railroad era, Kanayama Tunnel means this now. Kanayama Tunnel moved and keeps living.
---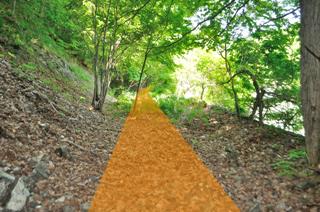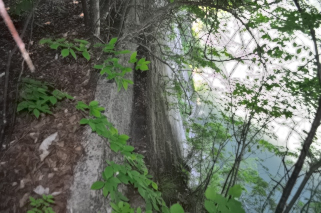 Immediately after of the tunnel looks like ground, but it's above the arch bridge that was visible from a distance. It is steg bridge that one side touches mountain.
---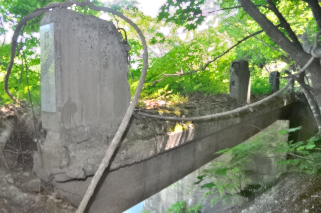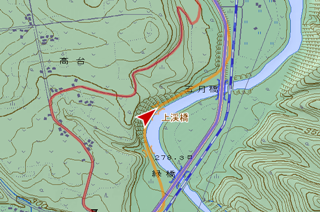 There is a regular bridge in steg. It named Jokei Bridge (上渓橋, jōkei hashi), completed on .
---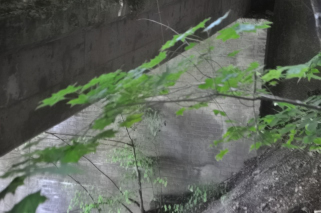 Abutments of Jokei Bridge are made by brick. It looks railroad.
---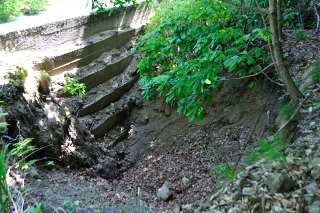 Continuing steg bridge is exposed roadbed and back side of parapet.
---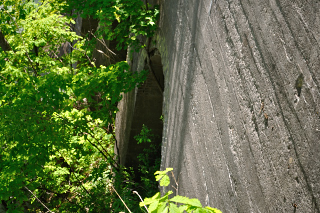 I try to see arch, I can see quadruple English bonded brick arch.
---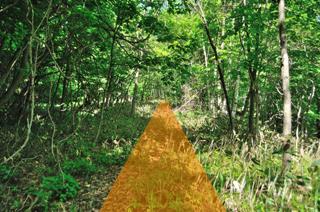 There are arched steg bridge 2 spans southern Jokei Bridge, and 7 spans northern. I think so. but it may mistake because woods cover. The road is start to keep former vegetation, woods cover my above, the precipice and the river go away.
---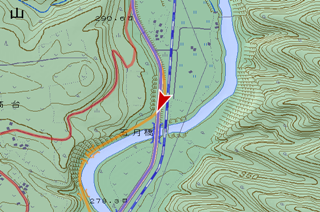 I came back to the current road. The old road exist on right of blue sign that written "そらち川". After this, I also recovered my bike by back to the gigantic talus, and left the site after.
---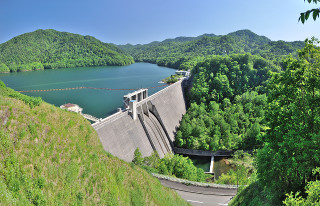 I got topographic maps that referred today to watch sink Nemuro Main Line under the dam…but this season is full of water.
---
Infomation of this entry
Related entrys
Major points maps
References
南富良野町史編纂委員会(編集)、『南富良野町史 下巻』、南富良野町役場、1991年
占冠村史編さん委員会(編集)、『占冠村百年史』、占冠村、2006年
著者不明、『橋現況調書』、北海道開発局、1964年
Change logs

サーバ引越しに伴いページを移動
旧URL:http://morigen.pro.tok2.com/blog/?p=6059
新URL:https://morigen.net/blog/?p=6059
Comments