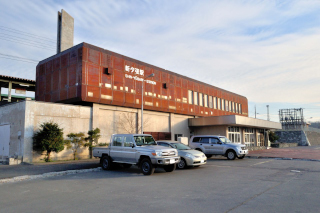 Sekisho Line (石勝線, sekisho sen) Yubari Branch Line (夕張支線, yūbari sisen) which has been decided a abolition in . I have came to Shin-Yubari Sta. that is railhead of it. This Station opened as Momijiyama Station at , and 125 years has passed. The abolition was decided the year after next, the station is finally about to lose to role as railhead of Yubari Branch Line. But today is not relevant with it. The topic is about old railroad when this station still called Momijiyama Station (紅葉山駅, momijiyama eki).
---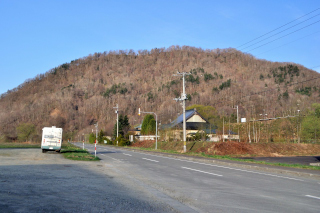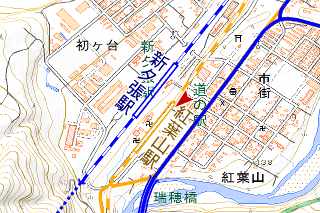 "Momijiyama" is erstwhile name of Shin-Yubari Sta. Sekisho Line opened at , the station's name changed to Shin-Yubari at the same time, and it moved into current position. Then, photo is the site of Momijiyama Sta. Something to imagine the station is only a running in board which standing front of station.
---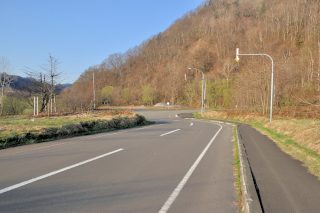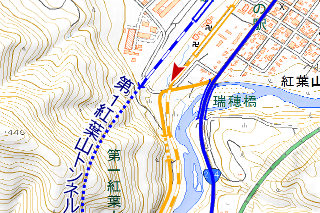 The old railroad had become road, toward south-west, end with T junction, finally became waste land. Around this T junction there was level crossing, after here, national road had paralleled. Current Sekisho Line enters into No.1 Momijiyama Tunnel (第1紅葉山トンネル, daiichi momijiyama tonneru) at my right side.
---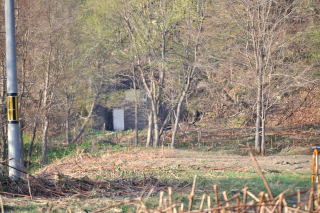 Meh, I have seen. I have seen straight off today's highlight.
---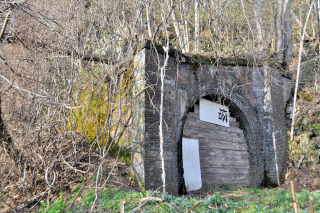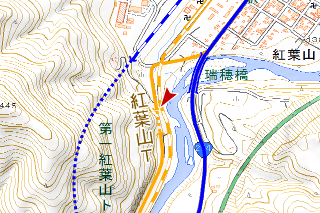 I reached a abandoned tunnel as soon as step into the waste land. This is Momijiyama Tunnel (紅葉山トンネル, momijiyama tonneru) the old national road. It was made by bricks except headstones that is stones, arch is 5 thickness horseshoe-shaped which looks heavy. A crack is piercing upper part is regrettable. This tunnel have been belonging to Hokkaido Prefectural Road No.116 Yubari-Naganuma Line (北海道道116号夕張長沼線, hokkaidōdō hyakujūrokugō yūbari naganuma sen) earlier than certified to national road. This line was promoted to national road at , "No.116" was assigned to other line, and the name "Yubari-Naganuma" was deprived by other too. In period before it, this tunnel was belonging to Hokutan (北炭, hokutan) Yubari Line (夕張線, yūbari sen). In period before it, this tunnel was belonging to Yubari Line that ancestor of Sekisho Line. Trains were running before cars run. I will write detailed history at the last.
---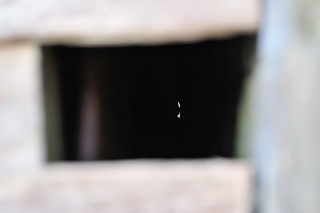 The portal had shut by wooden board moreover it is reinforced with white board. I wonder if original board broken so someone reinforced. Even now it has a little gaps, I tried to peek inside from this gap, I can see light of another side. It seems to nothing any fatal collapses inside of this. If it, I want to enter, but every gaps don't have size enough to enter.
---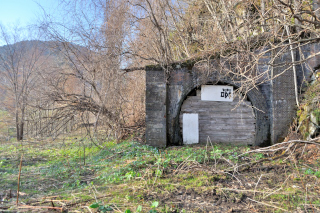 The fact that this tunnel was a railroad tunnel long ago is as described above, however railway didn't move to current line directly but moved to river side for a while. The railway move current line afterward, history connect to now. I will write detailed history at the last (2nd time).
---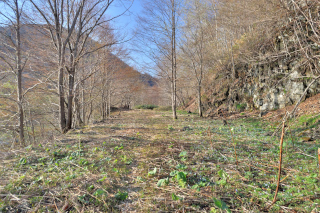 As you know current Sekisho Line is single track. But this is to all appearances width enough to double track. Why did it move track to here on purpose. I will write detailed history at the last (3rd time).
---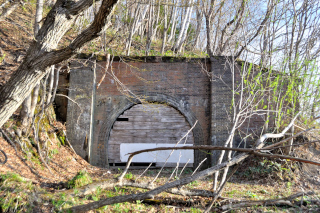 Momijiyama Tunnel is 101m long. I have arrived at the another entrance in no time. This made by bricks too. The arch is 4 thickness.
---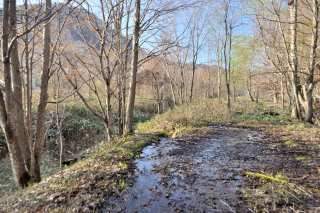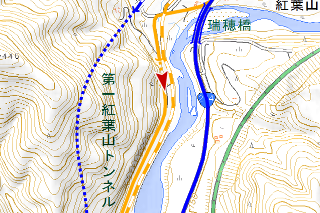 After the tunnel, there is trace of old national road on the right, trace of old Sekisho Line on the left.
---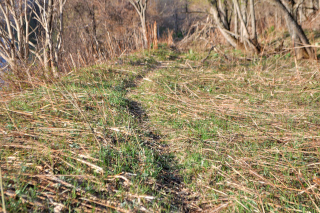 The old road and railway has animal trail and there are few bushes so I can ride bicycle easily.
---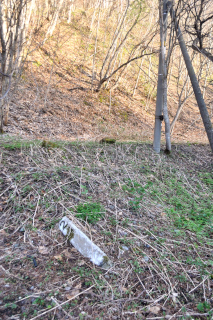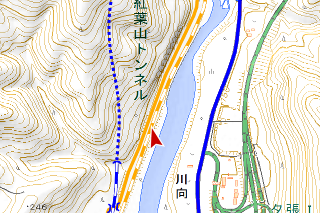 A type Kou location marker (甲号距離標, kōgō kyori hyō) of 24km remains. This is 24km point from Oiwake Station (追分駅, oiwake eki). There is a terminal box (端子箱, tanshi bako) of phone in background of photo.
---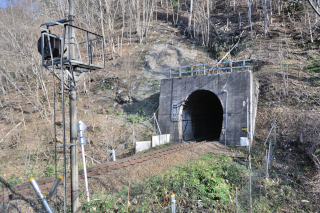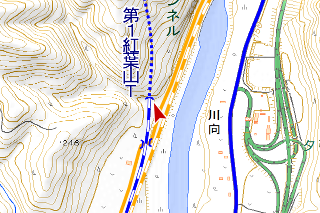 See current line on the right is sign of the end of old railway. Current Sekisho Line is going through No.1 Momijiyama Tunnel to Shin-Yubari Station. I will write detailed history at the last (4th time).
---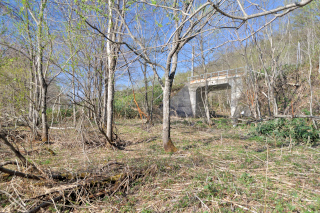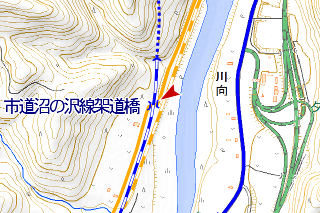 The old railway goes straight ahead and joins the current line, finally it ends. The old road is passing through under the current railway and goes to opposite side. I think the road was transferred to municipal road after it became OLD road, because this bridge named "Municipal Road Numanosawa Sen Over Bridge (市道沼の沢線架道橋, shidō numanosawa sen kadōkyō)".
---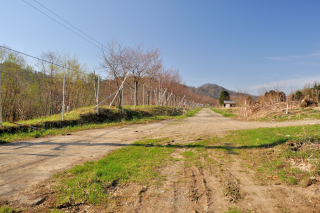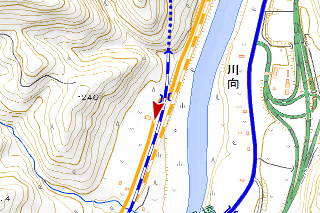 The abolished section ends after over bridge, paved road starts. The abolished road is merely 1.3km long so far. I think that it is most suitable for beginner of abolished road hiker because there are no undulations or obstacles.
---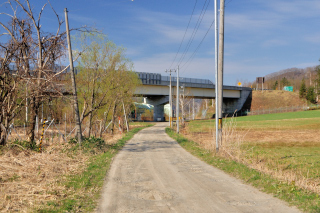 As I go along the road, I through under Doto Expressway (道東自動車道, dōtō jidōshadō) and reach Tomisato Signal Station (十三里信号場, tomisato shingōjō). Tomisato (十三里, tomisato) is place name around here, it called Jusanmairu (十三哩, jūsan mairu) originally. "Jusan" means "13", "mairu" is "miles" in Japanese, so "Jusanmairu" = "13 miles". It was a 13miles point from Oiwake Station when the railway build here, so this area called Jusanmairu. Interestingly it has "mile" notwithstanding in Japan.
---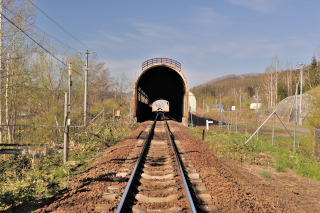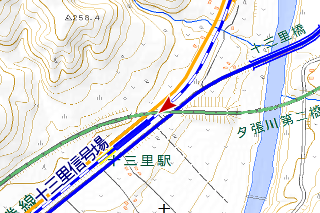 This is Tomisato Signal Station. I wonder if people who living in non snow zone are thinking "Why does it have shelters?", it there are for protect railroad switches.
---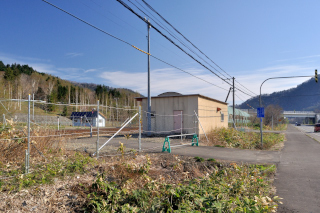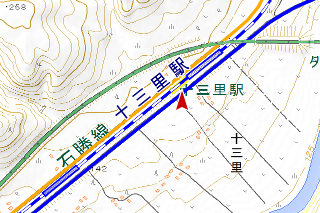 This Tomisato Signal Station was Tomisato Station (十三里駅, tomisato eki) until last year. I will write detailed history at the last (5th time).
---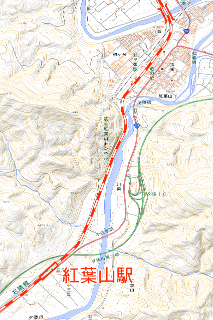 Well, this is "detailed history"'s turn. This section is historical section that railroad opened in . Hokkaido Colliery and Railway Company (北海道炭鉱鉄道, hokkaidō tankō tetudō) Muroran Line (室蘭線, muroran sen) Yubari Branch Line (夕張支線, yūbari shisen) the Sekisho Line's predecessor was constructed for develop coal mines and connect it to a port. At first, a plan was scheduled that route is close to Yubari Testudo Line (夕張鉄道線, yūbari tetsudō sen), but the plan changed by difficulty of construction, expenses, and plan of develop of coal mines. After that, the construction started on , opened at November 1. This opened railroad has many temporary sections, there was not Momijiyama Tunnel at that time. And Momijiyama Station set at middle point of the branch line that current Tomisato Signal Station there is.
---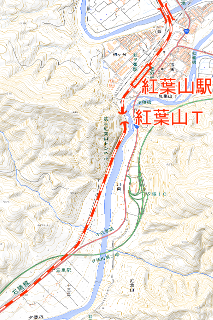 A permanent construction started in , Momijiyama Tunnel was completed in . And Momijiyama Station relocated to Momijiyama because the station was inconvenient to suply with water and get to. (The time is unknown. It had relocated already on a topographic map made in .)
---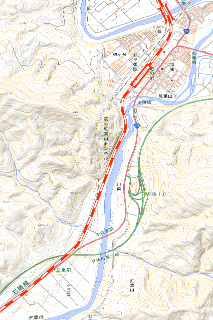 Coal mines developed and traffic volume increased since the end of the Meiji period, because of this the railroad was converted into double-track since to . Momijiyama – Tomisato section completed the construction at . I think that the tunnel section isn't widening but transference, because Momijiyama Tunnel wasn't displayed on topographic map of those days. However, current Sekisho Line was single-track as we saw above. Yes, this line is infrequent instance that was converted into single-track after double-track. At , Yubari Testudo Line which connect Yubari and Nopporo (野幌, nopporo) opened so traffic volume decreased, and recession invade on Showa period, finally it was converted into single-track.
---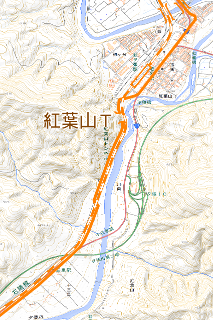 Well, on the above, Momijiyama Tunnel retired as railroad line, but I watch aerial photo taken in , I can confirm that it had reactivated as road. The tunnel was drew specifically in topographic map made in too. It means Momijiyama Tunnel came back again. At , this road certified to Hokkaido Prefectural Road No.116 Yubari-Naganuma Line that connect from Momijiyama to Naganuma (長沼, naganuma) via Kuriyama (栗山, kuriyama) and Yuni (由仁, yuni). The tunnel is narrow and made by bricks as I saw, I think it was diverted to road as it is. Its specification as road tunnel was 2.7m width, 3.9m height, 101m long.
---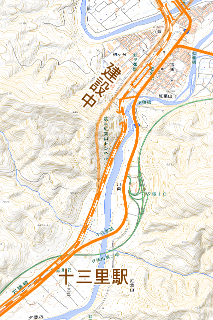 In FY, railroad was planed from Ishikari Area (石狩地方, ishikari chiho) to Tokachi Area (十勝, tokachi chiho) which surmount Hidaka Mountain Range (日高山脈, hidaka sanmyaku). today's section was integrated to plan. The name of this line is "Sekisho Line". Synchronize with Sekisho Line opened, the construction of this section started on . Then Tomisato Station opened at .
---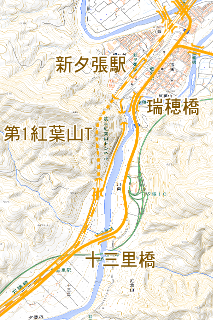 Sekisho Line opened at . Along with this, the cection I walked was moved to No.1 Momijiyama Tunnel, Momijiyama Station move and rename to Shin-Yubari Station. The line became present shape. At , here road was assignable to National Road No.274, and after Tomisato Bridge (十三里橋, tomisato bashi) and Mizuho Bridge (瑞穂橋, mizuho bashi) built, the road moved to present line. However, the prior road (containing the tunnel) was displayed on topographic map printed in too, so I think the road was relegationed to city or someone.
---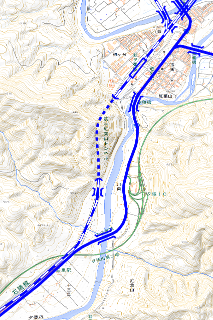 The old road disappeared on map unnoticed. at March 26 2016 Tomisato Station abolished and change into signal station, disappeared on map too. In fact, I was wanted to come here before abolish, but I couldn't because the hours cann't be arranged. Regrettable.
---
The railroad and the road are related so I cut short boldly. Please don't say "You wrote 'detailed' many times over! "
---
Infomation of this entry
Related entrys
Major points maps
References
zwiebel、『北海道 道路トンネルデータベース 国道229号 – 北海道 道路レポート"カントリーロード"』(http://web.archive.org/web/20111016202224/http://hokkaido-douro.net/tunnel/R229/index.html)
日本国有鉄道北海道総局、『北海道鉄道百年史 下巻』、日本国有鉄道北海道総局、1981年
夕張市史編さん委員会(編集)、『改訂増補 夕張市史 下巻』、夕張市役所、1981年
Comments